Hello Lamp Post
A city's objects made playable.
Hello Lamp Post was a collaboration between myself, Pan Studio, and Gyorgyi Galik, entered for the Watershed's 2013 Playable City competition. We won the competition, and subsequently were funded to build the project to run in the summer of 2013.
Since then the project has been nominated for Designs of the Year 2014, in the digital category.
Hello Lamp Post invited Bristol's citizens to talk to the street furniture that surrounded them. Lampposts, bridges, postboxes, and more - all had come to life, and all had questions they wanted the answers for. In answering them, participants would see the responses of others - and build up their own understanding of the many perspectives throughout Bristol.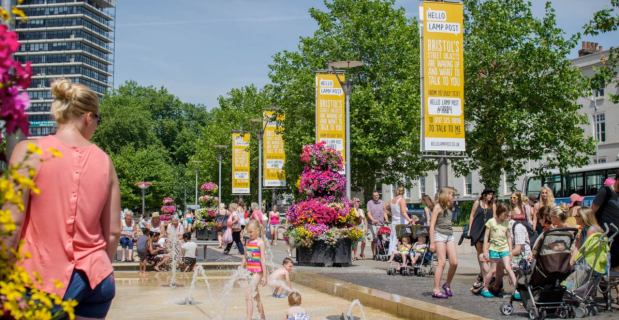 Display advertising explaining the project in Bristol.
We very much wanted to make a Playable City for as many people as possible. That meant disregarding the seductive technologies of GPS or smartphone apps, and making something simpler: an experience that ran entirely over SMS, which every mobile phone has. Similarly, we wanted it to work in as many locations as possible. We noticed that street furniture inevitably has alphanumeric codes printed or stencilled onto it, for maintenance or identification purposes - and we chose to use these codes as the primary identifiers for objects in our system.
Over several months, we prototyped and playtested the idea, simplifying the emphasis on natural language and ensuring that the dialogues were always satisfying for the player. This process involved research and playtesting on location in Bristol.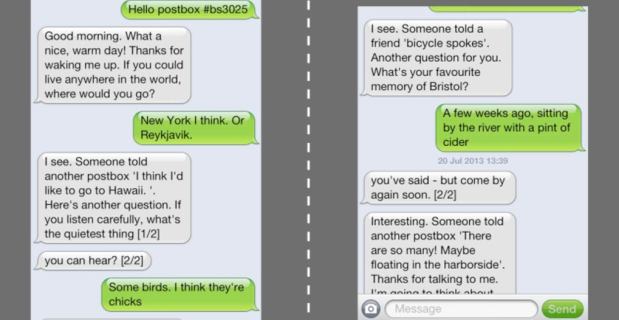 A sample conversation from the final experience [click for larger]
The simplicity of the project extended to explaining it - the entire instructions for the experience fitted onto the banners used to advertise it: a single greeting ('HELLO LAMPPOST #HRB4') texted to a specific number would start the ball rolling. From there, players would be engaged in a dialogue, and - should they return in future - the objects would remember them specifically.
We had around 4000 players during the two-month run in Bristol, taking part in 9500 conversations with over 1000 unique objects, and sending about 25000 text messages to the system.
You can find out more about the project, including full credits for all the supporters, at the official project website.