Variations on a Weekend Theme
An online art installation for Kettle's Yard
Variations on a Weekend Theme is an art installation by artist Emma Smith. Originally commissioned in 2015 by Kettle's Yard, it was a pop-up apothecary offering remedies for everyday concerns.
Variations on A Weekend Theme takes its name from an unpublished text by Jim Ede and his beliefs in the benefits of art and its inextricable links to life. The actions gifted by the apothecary have been collected by the artist from residents of Cambridge and are prescribed using charts inspired by 16th century domestic medicinal practices based on The Casebooks Project, Department of the History and Philosophy of Science, University of Cambridge
In the installation, the artist would perform a consultation, cross-referencing the participants' answers to questions with a series of charts. Prescriptions were written up by the artist as performance instructions and gifted to participants by post following the consultation.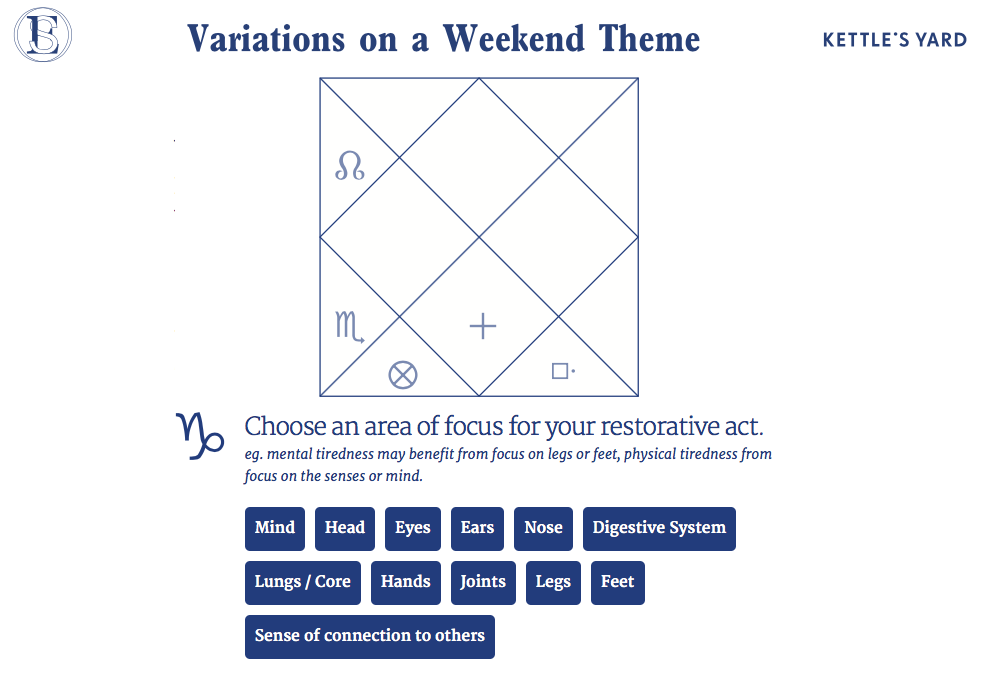 In 2018, Kettle's Yard commissioned a new digital installation of the work as part of their re-opening. I built the software for this installation, working with Emma to reconfigure the apothecary consultation process into something that would work online. The consultation process would follow the logic of Emma's personal consultations - but it would function online, existing as a digital work for the duration of the show. Once a reading was performed, it would display the resulting consultation chart on screen - and also send it to the end-user as a PDF.
I built the software and infrastructure for the project, and worked closely with Emma to deliver this new iteration of her work. I also made sure the work would function well on the iPads used for installation within the gallery itself.