Spirits Melted Into Air
Visualising actors' motions in print and wood
Spirits Melted Into Air was one of three Caper commissions for myShakespeare, in 2012. The project takes individual scenes or speeches - in this case, from the 2012 Royal Shakespeare Company productions of Richard III and The Comedy of Errors - and produces data-visualisations of actors' motion during them.
The work is in parts a technology prototype, data visualisation, and artwork.
It explores stripping the text away from dramatic performance: removing the playwright, and leaving only the production elements - the actor, the director, and everyone else who influences a performance. The project seeks to highlight the work that the Royal Shakespeare Company does in bringing the written texts of Shakespeare's plays to life.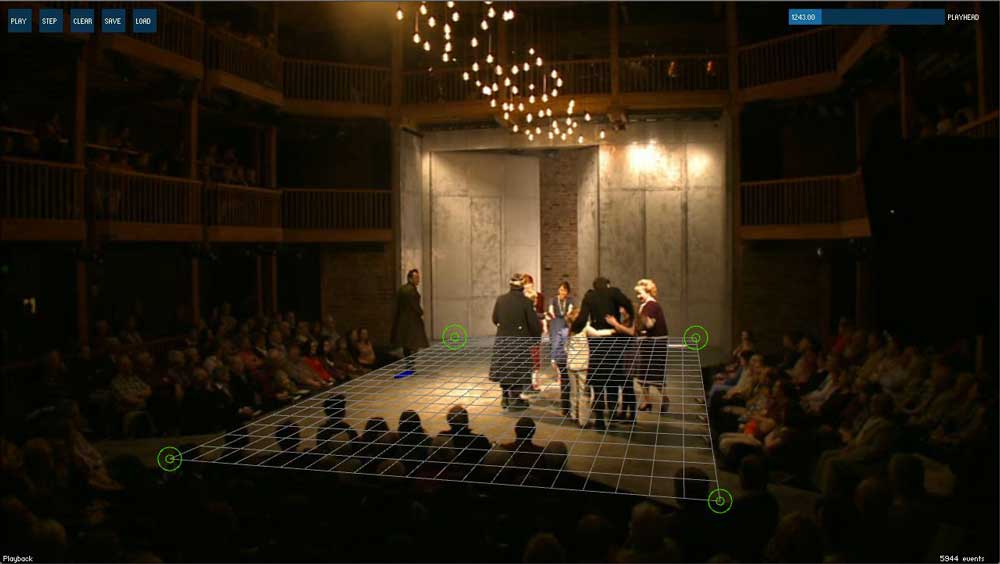 Tracing a scene from Richard III in the Processing application.
The data was captured from performance footage in a custom-built Processing application. The movements of the actors to be captured were individually traced from video, and mapped from the perspective viewpoint of the camera to an approximate overhead view.
Then, two sets of visualisations were made; first, in print. Another Processing sketch generated SVG from the data-points, which was then manipulated in Illustrator and Indesign to produce prints. They display the paths taken by the actor(s), annotated with appropriate lines from the text, anchoring speech to motion. The format of the posters hints at other representations of motion in print - dance notation, or football play-by-play diagrams.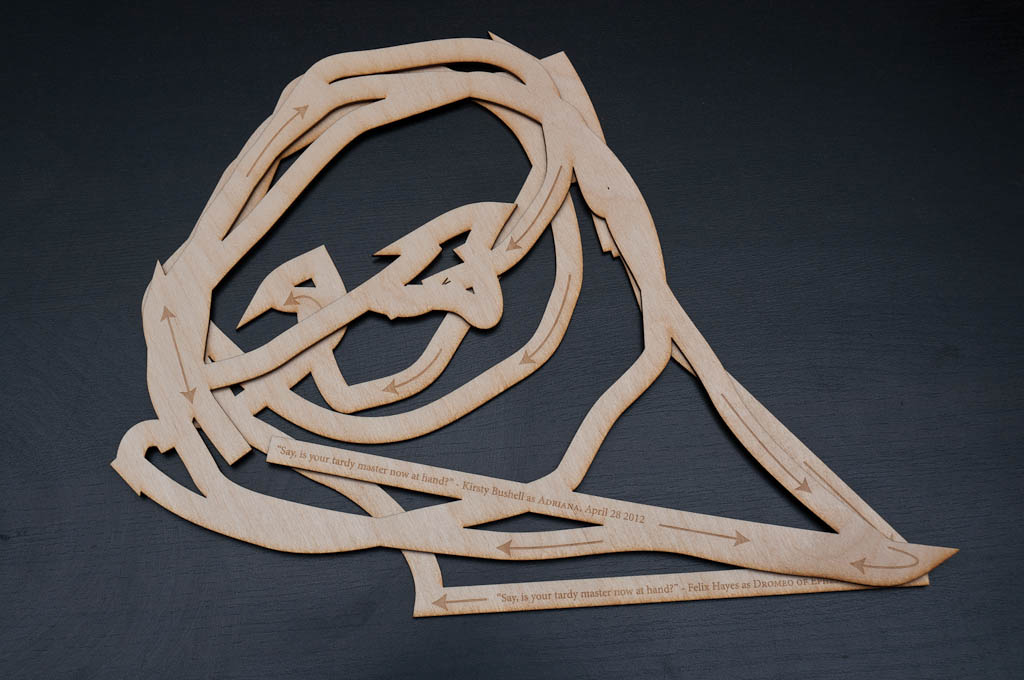 Two actors' paths lasercut in wood from The Comedy of Errors.
The plots of movement data were also translated laser-cut birch plywood. These wooden shapes are more abstract than the printed visualisations; more aesthetically pleasing than utilitarian. Engraved arrows hint at the directions of movement the actors take.
For The Comedy of Errors, each actor was cut as an individual piece of wood to the same scale, allowing the two paths to be overlaid, one atop the other.
You can find out more, and see more images of the project, at the dedicated project website.